Night School Legacy (Paperback)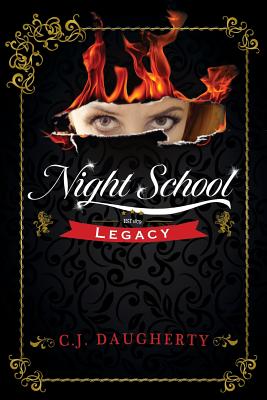 $13.90

Special Order—Subject to Availability
(This book cannot be returned.)
Other Books in Series
This is book number 2 in the Night School series.
Description
---
'The ending was fantastic and sad all at the same time, I was utterly gripped by the events that led to the last page... This was another amazing read filled with excitement, danger, laughs and a sprinkling of love. A perfect all-rounder.' -- Me, My Books and I
Nowhere to run, nowhere to hide...
In the last year, Allie has survived three arrests, two breakups and one family breakdown. The only bright point has been her new life at Cimmeria Academy. It's the one place she's felt she belongs. And the fact that it's brought the brooding Carter West into her life hasn't hurt either...
But the exclusive school's cloistered walls are about to prove more dangerous than she could ever have imagined. The students and teachers are under threat and Allie's family - from her powerful grandmother to her missing brother - are at the centre of the storm. Allie is going to have to choose between her family and her friends.
Because, this time, no one is going to save her. This time, she's going to have to save herself.
Legacy is Book Two in the international bestselling Night School series.
What people are saying about Night School Legacy:
'Just the other day I was sitting here, chatting with a friend and shamelessly making fun of boarding school books... and now I am forced to eat my words. Or just add Night School to that very short list of exceptions. I adore Cimmeria Academy. I adore the idea behind it, I adore the teachers and I desperately want to be an advanced Night School student... This series is a new favorite of mine and my expectations for the third book are sky high.' -- The Nocturnal Library Blog
'Legacy is the amazing sequel to Night School, bringing you a story full of secrets, mysteries with a perfect amount of romance C.J. Daugherty's writing will take you on a journey to unlock all these secrets, mysteries and the end will leave you breathless. Absolutely can't wait for the third book ' -- Forget Me Not Book Blog
'I finished Night School: Legacy within a matter of hours. The thrilling, fast-paced story captivated my mind and would not unleash me until I had turned the very last page. The story, following the life of sparky Allie Sheridan within the beautiful walls of Cimmeria academy, yet again fulfilled my needs of adventure and romance, combined with my love of private and boarding school novels.' -- My Secret Book Obsession Blog
'I really loved Night School, with its secrets and creepy boarding school setting and with Legacy, everything just felt more. The risk of danger felt greater, the excitement was at a higher level, and because I knew these characters, I felt myself growing that much more emotionally invested. Legacy is a fantastic sequel and this series has quickly become one of my favorites ' -- Fluttering Butterflies Blog
About the Author
---
A former crime reporter, political writer and investigative journalist, C. J. Daugherty saw her first dead body at the age of twenty-two. Although she left the world of crime reporting behind years ago, she never lost her fascination with what it is that drives some people to do awful things, and the kinds of people who try to stop them. The Night School series is the product of that fascination. Learn more about her at http: //www.CJDaugherty.com