Railroad Semantics: Eugene, Portland, Pocatello, and Back! (Paperback)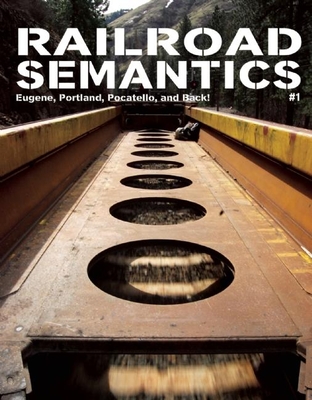 $7.95

Not On Our Shelves—Ships in 1-5 Days
Other Books in Series
This is book number 1 in the Railroad Semantics series.
#2: Railroad Semantics: Oregon Trunk, Fallbridge, Brooklyn, Cascade, Black Butte, and Valley Subs (Paperback): $7.95
#3: Railroad Semantics: Portland, La Grande, Huntington, Nampa, Pocatello, Rawlins, Laramie, Front Range, Valley, Black Butte, and Cascade (Paperback): $7.95
Description
---
Devoted to trainhopping and railroad culture, Aaron Dactyl's Railroad Semantics zine describes the sights, sounds, successes, and defeats of riding around the U.S. inside of (and sometimes on top of ) freight trains. This first issue, re-published here in book form, explores a round-trip, early-spring train ride from Portland to Pocatello and back, as well as a long, winter ride to Eugene. Both informative and entertaining, issue one also features a wide array of articles on railroads and rail-related activity, letters, postcards, and is full of absolutely gorgeous photographs of landscapes and hobo graffiti--a poetic sense of adventure captured in words, pictures, and scenic vistas

About the Author
---
Aaron Dactylis an adventurer, railroad hobo, and train enthusiast. He regularly travels by hopping trains. He lives in Eugene, Oregon.