Fables of Fortune: What Rich People Have That You Don't Want (Hardcover)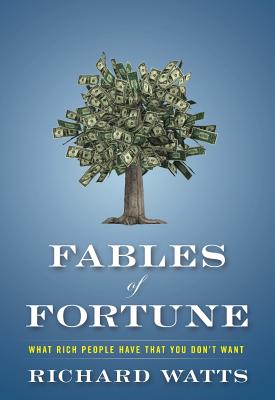 $17.95

Not On Our Shelves—Ships in 1-5 Days
Description
---
Imagine private jets ready for an afternoon flight to New York City for a transcontinental shopping trip . . . luxury yachts circling the globe awaiting their owner's arrival . . . fully staffed but rarely visited vacation homes throughout the world. The rich live trouble free lives of graceful ease. Or do they?
In "Fables of Fortune," author Richard Watts pulls back the brocade curtain to reveal the precarious path of wanting more. As the advisor to the super rich, Watts reflects on the reality of wealth and a difficult and heartbreaking lesson: The wealthiest person is not who has the most, but who needs the least.
"
Fables of Fortune" convincingly persuades readers that wealth may be overrated. Through vignettes based on true stories, Watts reveals the challenges the super-wealthy face, including marriages based on net worth, interfamily inheritance battles, faux friends, entitled children, alienation, and spiritual depletion.
The successes and failures of life inspire the heartbeat of passion and self-actualization. Watts will challenge readers to reconsider key life questions of personal value and discover surprising new answers. "Fables of Fortune" reveals an honest, comparative, eye-opening analysis for any reader who believes wealth is a rose without thorns. Read on and gain perspective and appreciation for your own real fortune in life.

About the Author
---
Richard Watts, the founder and President of Family Business Office (r) ( FBO ), was admitted to the California State Bar to practice law in 1982 and is an alumnus of the Harvard Business School. FBO is a legal and consulting firm that manages the country s wealthiest families and their family office enterprises. Richard s families rely on him to oversee family operations and make decisions with them on a daily basis.

Richard is a resident of Laguna Beach, California. His passions include traveling with his wife, Debbie, and family, long board surfing at San Onofre, swimming, skiing and snowboarding in the local mountains, piano, and music composition. He is the proud father of three adult sons; Aaron, Todd, and Russell, and welcomed his first granddaughter, Maclane Marie, in 2010.

Richard has a talent for creativity and will continue writing books in the "Fables of Fortune" series. Richard is often asked to speak on this topic to business, religious, and charitable groups.

"
Coverage from NPR