Zombie Pandemic: A Graphic Novel & Disaster Preparedness Lessons (Paperback)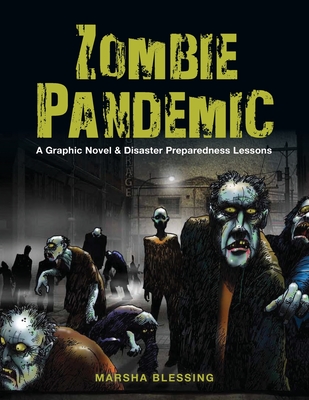 $24.99
Not On Our Shelves—Ships in 1-5 Days
(This book cannot be returned.)
Description
---
There's nothing like waking up one morning and learning about a strange new disease that can turn people into zombies and wondering, "Am I ready for this? " But for Todd, Julie, and their dog Max, the zombies are already here Are they ready? I mean, who even thinks of surviving a zombie apocalypse?
Follow Todd, Julie, and Max as they make their way through the city, while trying to survive hordes of zombies, and discover at the end if they were prepared to survive this Zombie Pandemic
But who really thinks of surviving zombies, or any pandemic. Yes, we've had them, SARS, H1N1, and now Covid-19. There are all kinds of emergencies that happen. Let's face it, they're out there, and taking time to be ready for them can make a world of difference. Want to see if you have what it takes to survive a zombie pandemic? If so, then try this...
Take what you learned from Todd, Julie, and Max, and figure out how YOU would survive a zombie apocalypse Yes, there may not be zombies...yet, but being prepared can not only help you, but even those around you. Remember what Louis Pasteur said, "Chance favors the prepared mind."
PREPAREDNESS 101
So the question you have to ask yourself is, "What now?"
Well, look no further Once you've followed Todd, Julie, and Max's journey you'll reach the next part that involves YOU It's here that you'll be given the opportunity to put your mad survival skills to use And lucky for you, we've provided a ton of cool activities, checklists, and other amazing tools to help you survive any emergency, disaster, and yes, even ZOMBIES So what are you waiting for? Dive in and get prepping