Father Joe: Life Stories of a Hustler Priest (Paperback)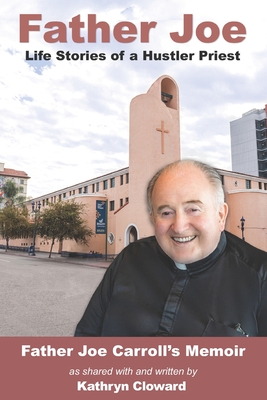 $19.99
Backordered
(This book cannot be returned.)
Description
---
Is there such a thing as a hustler priest? Yes Father Joe Carroll earned that label early in his career-and it stuck. Always a wheeler and dealer, starting from his childhood in the Bronx, his ability to get things done served him well in developing what's now called Father Joe's Villages in San Diego, California. This book of stories from Father Joe's interesting life shared in his voice is heart-warming and heart-wrenching, while also head-shaking and hilarious. From his antics as a youth and a seminarian to breaking new ground and crossing the lines when necessary to get things done to support neighbors in need experiencing homelessness, you'll come to understand that "hustler" does suit Father Joe well. And he wouldn't have it any other way. Three Book Options
Father Joe: Life Stories of a Hustler Priest is available in print paperback, Kindle digital eBook, and Audible audio book. The Audible version includes Father Joe introducing each story (chapter) of the book. A portion of the proceeds from every book sold will support children in need. About Father Joe
Father Joe Carroll grew up in the Bronx in a two-bedroom apartment with his parents and seven siblings. From childhood, he was entrepreneurially minded, earning money by doing various jobs in his neighborhood, including being a Shabbos Goy for his Jewish neighbors. In his early 20s, he decided to move across the country to Southern California and a year later entered the seminary. Father Joe was ordained as a Catholic priest in 1974 and was a popular parish priest until 1982, when he was assigned to take over San Diego's St. Vincent de Paul Center (now known as Father Joe's Villages). Tasked to build a homeless shelter on an empty block in downtown San Diego, Father Joe's persistence, charisma and gregarious personality - along with a fearlessness of the unknown - resulted in developing a revolutionary approach to providing housing and services for people experiencing homelessness. Father Joe's idea, which he boldly shared on national television while being interviewed by 60 Minutes, became reality in 1987 with the opening of the first newly constructed building - St. Vincent de Paul Joan Kroc Center. Decades of development followed, as well as countless awards and international recognition for Father Joe, who became known as the "hustler priest" after seeking money to help neighbors in need on television. Although he retired in 2011, Father Joe continues to serve the greater San Diego community, which has benefited greatly from his unique mindset of an entrepreneur, heart of a servant and willingness to do whatever it takes to create results. He also maintains his lifelong support of the Boy Scouts.