Age of The Dinosaur: Coloring Book for Kids and Adults Let's learn about Dinosaurs Vol 1 (Paperback)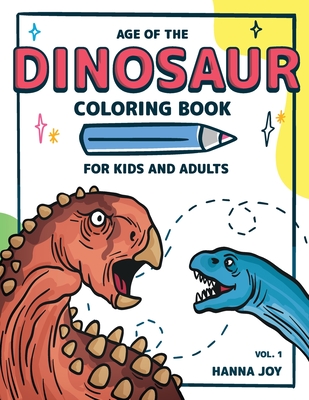 Description
---
Behold the MOST ENCHANTING Activity and Coloring Book for Kids & Adults, ideal for:
- Increasing creativity: Coloring is an amazing way to stimulate imagination and inspire kids to come up with new ideas. So, sharpen those pencils and let the coloring games begin.
- Having loads of fun: Take out your coloring pencils, grab your hot cocoa, one of those delicious gingerbread house mom made, and let the fun begin
- Some good, clean, tech-free entertainment: Finally, you can give your gadgets a well-deserved break.
What makes this book the PERFECT Present for Adults & Kids of all ages?
- 40 Unique Designs: various species of dinosaurs, just waiting to be completed and filled with color. For each design, you have an example to inspire you
- Amazingly made kids & toddler coloring book using only high-quality paper.
- Great gift idea for color & holiday-loving people.
- Has the perfect paperback size to take it with you anywhere and everywhere: 84 pages at 8.5″ x 11″, it fits in your backpack or laptop bag.
Getting the IDEAL GIFT for color-loving people has never been simpler Buy with confidence for your kids, friends, or even for yourself, buy with joy, and buy "Age of The Dinosaur Vol 1".