¡Es un libro! (Álbumes) (Hardcover)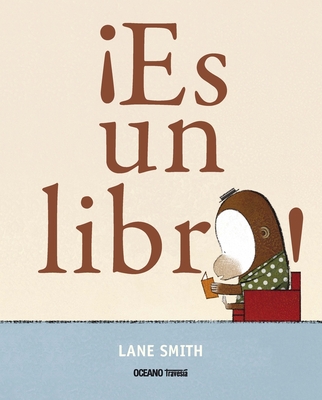 $8.95

Special Order—Subject to Availability
Description
---
Una pregunta que todos nos hacemos es: ¿qué pasará con los libros impresos ante las nuevas tecnologías? ¿Están condenados a morir? Con este libro los niños aprenderán sobre el valor de los libros impresos, y sus ventajas en comparación con las tecnologías digitales. Divertido, ligero y contundente, este libro responde con guante blanco a todos aquellos que han profetizado el fin de los libros impresos. ¿Envía mensajes? ¿Sirve como blog? ¿Se ajusta la página?¿Tiene Wi-Fi? ¿Tweetea? No…es un libro. Descubre por qué este libro está dentro del top 10 de la revista Publisher´s Weekly. Una lectura obligatoria para todo editor preocupado por el impacto de la publicación electrónica y también para todo niño que quisiera disfrutar más de su infancia y del singular estilo de Lane Smith.

We all ask ourselves what will happen to printed books amid new technologies. Have they received a death sentence? This book helps teach children about the value of printed books and their advantages over digital technology. Fun, light, and hard-hitting, it offers a clever response to those who have prophesied the end of printed books. Does it send texts? Is it a blog? Can you zoom in? Does it have Wi-Fi? Does it tweet? No—it's a book.
About the Author
---
Lane Smith is an American writer and illustrator who specializes in reinventions of classic stories. He studied art at the Art Center College of Design in Pasadena, California.
Praise For…
---
"I do love this book." —The New Yorker Book Bench blog, on the English language edition
"Those of us for whom books are a faith in themselves—who find the notion that pixels, however ordered, could be any kind of substitute for the experience of reading in a chair with the strange thing spread open on our lap—will love this book. Though it will surely draw a laugh from kids, it will give even more pleasure to parents who have been trying to make loudly the point that Smith's book makes softly: that the virtues of a book are independent of any bells, whistles or animation it might be made to contain. . . . For in trying to make the case for books to our kids, exactly the case we want to make is not that they can compete with the virtues of computer or screens, but that they do something else: that they allow for a soulfulness the screens, with their jumpy impersonality, cannot duplicate . . . The moral of Smith's book is the right one: not that screens are bad and books are good, but that what books do depends on the totality of what they are -- their turning pages, their sturdy self-sufficiency, above all the way they invite a child to withdraw from this world into a world alongside ours in an activity at once mentally strenuous and physically still." —New York Times Book Review, on the English language edition
"This tongue-in-cheek picture book about reading in the digital age features the best last line ever written in the history of children's literature. Savor it in print rather than trying to read it on your Nook, Kindle or iPad --the punchline will be much better that way." —USA Today's "Pop Candy" blog, on the English language edition
"Stylishly designed." —Wall Street Journal, in its Summer Big Books Preview, on the English language edition
"In the age of e-readers, Smith offers a wry tribute to the printed word through a conversation about a book. As a gorilla sits reading quietly, a technophilic donkey pesters him about the source of his absorption: "Can it text? Tweet? Wi-Fi?" He may be a complete ass, but the donkey finally comes to understand the value of a good book -- least of all, no batteries required!" —AARP.com, on the English language edition
"Donkey's gradual capitulation to the power of a real book is marked by both the hands of the clock (in a droll double-page time-lapse sequence) and the angles of his ears. But it's a mouse's final insouciant line that garners the biggest laugh." —Washington Post, on the English language edition
"Universally comical . . . the refrain and pacing hit the sweet spot for preschoolers, while a
Treasure Island
passage reduced to AIM-speak will have middle schoolers and adults in stitches."
—Kirkus Reviews
, on the English language edition
"Welcome to a stunning picture-book entry in the print versus e-books debate. . . One of this year's best last lines will not be spoiled here." —Chicago Tribune, on the English language edition
"Lane Smith brilliantly captures the fears of today's book lovers over e-readers in a children's book -- and does so with great humor." —New York Post, on the English language edition
"Dry humor permeates the visual exchanges. With a cheeky punch line (kids, do not try it at home), Smith uses irreverence to express reverence for the book." —San Francisco Chronicle, on the English language edition
"Personally, we laughed our a$$ off--and we know a few kids who will, too." —Time Out New York Kids, on the English language edition
"If you're a picture book connoisseur, chances are you're already familiar with Lane Smith. . . . Smith's latest picture book is called IT'S A BOOK. . . It's a very cute book, short and sweet. The illustrations are charming--particularly the monkey's expressions--and your kids will love the silly questions the donkey asks about the monkey's book." —Wired magazine's "Geek Dad" blog, on the English language edition
"Young readers, who are, after all, digital natives, will get a real kick out of Smith's book, as will their increasingly technology-obsessed parents." —Scripps Howard News Service, on the English language edition
"In our increasingly electronic world, it's easy to forget the sweet simplicity of a book. In Lane Smith's delightful It's a Book, the high-tech generation, especially youngsters, can rediscover the fun there is to be had between two covers. The playful read is something you and your grandchildren can enjoy together, time and again." —Bellingham Herald, on the English language edition
"Adults who think their kids can handle the language with a wink and a smile will love reading this book aloud to their kids and having a great old belly laugh right along with them." —McClatchy-Tribune newswire, on the English language edition
"Smith addresses e-literacy in his irreverent style. . . . Meanwhile, Smith has the best of both worlds: his stylish drawings, sleek typography, and kid-friendly humor combine old media and new." —Publishers Weekly, STARRED review, on the English language edition
"The final punch line . . . will lead to a fit of naughty but well-deserved laughter, and shouts of 'Encore.' A clever choice for readers, young and old, who love a good joke and admire the picture book's ability to embody in 32 stills the action of the cinema." —School Library Journal, STARRED review, on the English language edition
"Smith throws down his gauntlet in the ongoing debate over digital versus print."
—Booklist
, on the English language edition
"This is a picture book that captures a defining moment in--dare I say it? --civilization as we know it." —Miami Herald, on the English language edition