Tomás Nevinson (Spanish Edition) (Paperback)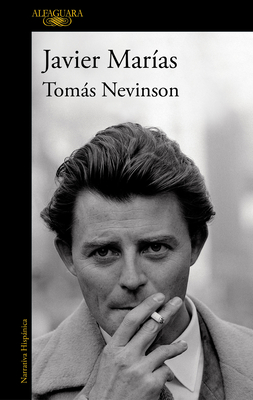 $24.95
Coming Soon—Pre-Order Now
Description
---
«Matar no es tan extremo ni tan difícil e injusto si se sabe a quién.»
Tras la aclamada Berta Isla,
llega la nueva y esperada novela de Javier Marías.
Una intriga absorbente que explora el envés del «No matarás».

«Yo fui educado a la antigua, y nunca creí que me fueran a ordenar un día que matara a una mujer. A las mujeres no se las toca, no se les pega, no se les hace daño#»

Dos hombres, uno en la ficción y otro en la realidad, tuvieron la oportunidad de matar a Hitler antes de que éste desencadenara la Segunda Guerra Mundial. A partir de este hecho, Javier Marías explora el envés del «No matarás». Si esos hombres quizá debieron disparar contra el Führer, ¿cabe la posibilidad de hacerlo contra alguien más? Como dice el narrador de Tomás Nevinson, «ya se ve que matar no es tan extremo ni tan difícil e injusto si se sabe a quién».

Tomás Nevinson, marido de Berta Isla, cae en la tentación de volver a los Servicios Secretos tras haber estado fuera, y se le propone ir a una ciudad del noroeste para identificar a una persona, medio española y medio norirlandesa, que participó en atentados del IRA y de ETA diez años atrás. Estamos en 1997. El encargo lleva el sello de su ambiguo ex-jefe Bertram Tupra, que ya, mediante un engaño, había condicionado su vida anterior.

La novela, más allá de su trama, es una profunda reflexión sobre los límites de lo que se puede hacer, sobre la mancha que casi siempre trae la evitación del mal mayor y sobre la dificultad de determinar cuál es ese mal. Con el trasfondo de episodios históricos de terrorismo, Tomás Nevinson es también la historia de qué le sucede a quien ya le había sucedido todo y a quien, aparentemente, nada más podía ocurrir. Pero, mientras no terminan, todos los días llegan#

ENGLISH DESCRIPTION

After his acclaimed Berta Isla, comes Javier Marías' long-awaited new novel. It is a mesmerizing intrigue that explores the underside of "Thou shalt not kill."
 
Two men, one in fiction and one in reality, had the opportunity to kill Hitler before he unleashed World War II. Based on this fact, Javier Marías explores the basis of "You shalt not kill." As its narrator put it, "you can see that killing is not so extreme or so difficult and unfair depending on who your target is."
 
Tomas Nevinson, Berta Isla's husband, falls into the temptation of returning to the Secret Services. In 1997, after having been away for a while, he was assigned to go to a northwestern city in search of a suspect who participated in attacks made by the IRA and ETA ten years before.
 
The novel is a deep reflection on the limits and restraints of what can be done, on the stain that comes with avoiding the greatest evil, and on the struggle of determining what that evil is. Against the background of historical terrorist attacks, Tomas Nevinson is also the story of what happens to someone who has already had everything happen to him, and to whom, apparently, nothing else could happen.
About the Author
---
Javier Marías (Madrid, 1951) es autor de quince novelas, entre ellas El hombre sentimental (Premio Ennio Flaiano), Todas las almas (Premio Ciudad de Barcelona), Corazón tan blanco (Premio de la Crítica, IMPAC Dublin Literary Award, Prix l#Oeil et la Lettre), Mañana en la batalla piensa en mí (Premio Rómulo Gallegos, Prix Femina Étranger, Premio Mondello, Premio Fastenrath), Negra espalda del tiempo, los tres volúmenes de Tu rostro mañana (Fiebre y lanza, Baile y sueño y Veneno y sombra y adiós), Los enamoramientos (Premio Tomasi di Lampedusa, Mejor Libro del Año en Babelia, Premio Qué Leer), Así empieza lo malo (Mejor Libro del Año en Babelia) y Berta Isla (Premio de la Crítica, Premio Dulce Chacón, Mejor Libro del Año en Babelia, en Corriere della Sera y en Público de Portugal); de las semblanzas Vidas escritas; de los relatos reunidos en Mala índole y la antología Cuentos únicos; homenajes a Cervantes, Faulkner y Nabokov, y veinte colecciones de artículos y ensayos. En 1997 recibió el Premio Nelly Sachs; en 1998 el Premio Comunidad de Madrid; en 2000 los Premios Grinzane Cavour y Alberto Moravia; en 2008 los Premios Alessio y José Donoso; en 2010 The America Award; en 2011 el Premio Nonino y el Premio de Literatura Europea de Austria; en 2012 el Premio Terenci Moix; en 2013 el Premio Formentor; en 2015 el Premio Bottari Lattes Grinzane; y en 2017 el Premio Liber, todos ellos por el conjunto de su obra. En 2016 fue nombrado Literary Lion por la Biblioteca Pública de Nueva York. Entre sus traducciones destaca Tristram Shandy (Premio Nacional de Traducción 1979). Fue profesor en la Universidad de Oxford y en la Complutense de Madrid. Sus obras se han publicado en cuarenta y seis lenguas y en cincuenta y nueve países, con casi nueve millones de ejemplares vendidos. Es miembro de la Real Academia Española.
Praise For…
---
La crítica ha dicho:

«Marías representa a las letras hispanas en el mundo por su prosa de fuerza expresiva. Es digno aspirante a Premio Nobel.» -Mircea Cartarescu

«Marías es sencillamente asombroso.» -Ali Smith

«De lejos es el mejor prosista español actual.» -Roberto Bolaño

«Uno de los mejores escritores europeos contemporáneos.» -Antony Beevor

«Gloriosa frase tras gloriosa frase# ¿Hay en Europa mejor escritor vivo que Javier Marías?» -The Independent

«Javier Marías debe ser un firme candidato para ganar el Nobel.» -J. M. Coetzee

«Javier Marías, uno de los más grandes, más geniales escritores del mundo.» -Claudio Magris

«Javier Marías es un escritor maravilloso.» -John Banville

«Quien no lea a Marías está condenado.» -The Nation

«Su mente es profunda, aguda, a veces turbadora, a veces hilarante, y siempre inteligente.» -Edward St Aubyn, The New York Times Book Review

«Hechizante... evoca a creadores de acertijos como Borges, y las tramas de Marías, ingeniosas como jugadas de ajedrez, traen a la mente al gran maestro estratega del siglo XX, Vladimir Nabokov.» -Los Angeles Times

«Un gran escritor.» -Salman Rushdie

«Marías atrapa con su suspense narrativo y con sus habilidosos relatos.» -The Independent on Sunday

«Un escritor profundamente necesario, un caballero andante, divertido, punzante, lleno de ira y amor.» -The Guardian

«De una inteligencia deslumbrante y cautivadora, parece que no haya nada que Marías no pueda conseguir con la ficción.» -Kirkus Reviews

«Es uno de esos raros y preciosos seres, un simple novelista que ama las historias e intrigado por el mal.» -Colm Tóibín, New York Review of Books

«Estoy gratamente impresionado por la calidad de la escritura de Marías... por su empeño y precisión.» -W G Sebald