Dios salve a Texas / God Save Texas : A Journey into the Soul of the Lone Star State (Paperback)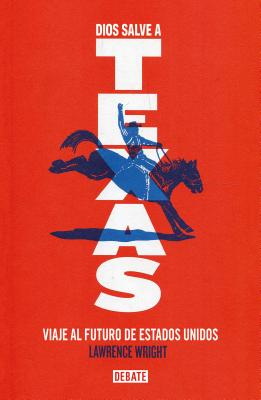 $24.95
Special Order—Subject to Availability
Description
---
La exploración de uno de los estados más controvertidos de Norteamérica desde la penetrante mirada y el humor de un nativo.
Texas, el llamado estado de la estrella solitaria, se parece mucho a la América que Donald Trump tanto anhela construir. El estado, profundamente republicano, no ha elegido a un demócrata como representante en más de veinte años. No obstante, las principales ciudades texanas son demócratas, de las más diversas de la nación, y sus minorías, como por ejemplo la comunidad musulmana, ya empiezan a conformar mayorías.
Mientras Texas, un estado conocido por ser el rey del petróleo, ha logrado superar a California exportando tecnología, su crecimiento económico se ve cuestionado por importantes brechas salariales. En esta obra, el escritor texano Lawrence Wright expone estos y otros datos que contribuyen a evidenciar la disparidad que gobierna en el seno de la sociedad texana y refleja cómo eran, cómo son y cómo podrían ser en un futuro los Estados Unidos de América.

ENGLISH DESCRIPTION

A New York Times Notable Book
National Book Critics Circle Award Finalist
An NPR Best Book of the Year

God Save Texas is a journey through the most controversial state in America. It is a red state, but the cities are blue and among the most diverse in the nation. Oil is still king, but Texas now leads California in technology exports. Low taxes and minimal regulation have produced extraordinary growth, but also striking income disparities. Texas looks a lot like the America that Donald Trump wants to create. 

Bringing together the historical and the contemporary, the political and the personal, Texas native Lawrence Wright gives us a colorful, wide-ranging portrait of a state that not only reflects our country as it is, but as it may become—and shows how the battle for Texas's soul encompasses us all.
About the Author
---
Lawrence Wright se licenció en la Universidad de Tulane, en Nueva Orleans, y trabajó durante dos años en la Universidad Norteamericana de El Cairo, en Egipto. Es escritor, guionista, autor teatral, redactor de The New Yorker desde 1992 y miembro del Centro sobre Leyes y Legalidad de la Facultad de Derecho de la Universidad de Nueva York. Aclamado por la crítica internacional ha sido galardonado con numerosos premios, entre los cuales destaca el Pultizer en 2007 por La torre elevada (Debate, 2011).
lawrencewright.com
Praise For…
---
Críticas:
«Wright, ganador de un Premio Pulitzer, guionista, dramaturgo y redactor en The New Yorker, es y ha sido durante mucho tiempo uno de los escritores más cautivadores de Texas.».-Cecile Richards, The Washington Post
«Es un escritor texano, un anecdotista que, aunque deambula por sus relatos especificando solo ocasionalmente dónde quiere ir a parar, siempre conduce al lector a su destino. En su voz, se identifica a un verdadero escritor neoyorquino y, en su prosa una pulcra y agradable informalidad.».- Benjamin Markovits, The Guardian
«Su gran sensibilidad se adecua perfectamente al tema de su última obra y le ayuda a capturar una imagen completa de Texas en su suerte y su desgracia.».- Jennifer Szalai, The New York Times