P&P Live! Dan Brown-Wild Symphony—in conversation with Petra Mayer
Tuesday, September 1, 2020 - 7:00pm
Bestselling author of the DaVinci Code writes his first picture book!
Join Maestro Mouse as he introduces you to his animal friends in their habitats, each defined by a unique orchestral arrangement in a symphony that plays as you read. Try to spot the hidden clues along the way—there's a coded message to solve! Download the free app and scan the QR code at the beginning of the book to access original music composed by the world-famous author of The Da Vinci Code. In his picture book debut, Dan Brown welcomes readers into a melodious world of humor, wisdom, and discovery. Ages 4-8
ABOUT THE AUTHOR: Before Dan Brown became an author, he played and wrote music. The son of musicians and teachers, he grew up attending concerts, singing in choirs, and playing classical piano. He believes music is a kind of storytelling, and he's thrilled to be able to share this new tale with young readers.
Dan will be in conversation with Petra Mayer, Editor, NPR Books.
Petra Mayer is an editor (and the resident nerd) at NPR Books, focusing on fiction, and particularly genre fiction. She brings to the job passion, speed-reading skills, and a truly impressive collection of Doctor Who doodads. You can also hear her on the air and on the occasional episode of Pop Culture Happy Hour.
A signed bookplate will be sent with each book, while supplies last.
Purchase of Wild Symphony from Politics and Prose is required to attend the event.
Event Ticket and Book (Store Pickup): $22

Event Ticket and Book (Domestic Shipping): $27

Event Ticket and Book (Canada/Mexico Shipping): $42
Click here to purchase tickets to the Live! event!
Child & Teen
Children
Ticketed
Offsite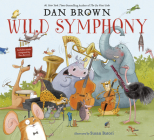 $18.99
ISBN: 9780593123843
Availability: In Stock—Click for Locations
Published: Rodale Kids - September 1st, 2020
---
Not Signed or Personalized