Early one morning in 1997, the first child of Ziauddin Yousafzai of Mingora, Pakistan, was born. Although many fathers in his country would have preferred a male child, Ziauddin believed that all children deserve an education; he was proud of his daughter, who by the time she was eleven was known around the world as Malala: Activist for Girls' Education (Charlesbridge, $17.99). Raphaele Frier's account of Malala's life, translated from the French by Julie Cormier, is expertly tailored for a young audience. Aurelia Fronty draws inspiration from the folk art of South Asia to create warm-toned illustrations that invite readers to immerse themselves in Malala's world. Photographs, additional biographical information, and excerpts from Malala's writing conclude this handsome and inspiring biography. Ages 7-10.

$17.99
ISBN: 9781580897853
Availability: Not On Our Shelves—Ships in 1-5 Days
Published: Charlesbridge - February 7th, 2017
---
The Vietnam Memorial plays a part in both Maya Lin: Artist-Architect of Light and Lines (Henry Holt, $17.99), a picture-book biography of the designer of the stirring monument, and Rolling Thunder (Scholastic, $17.99), a fictionalized story about the annual Memorial Day motorcycle demonstration in Washington, DC. A graceful narrative by Jeanne Walker Harvey and elegant illustrations by Dow Phumiruk reveal the inspirational story of Lin, who won the design contest for the Vietnam Memorial when she was still in college. Meanwhile, the spare, poetic words of Kate Messner and the evocative drawings of Greg Ruth tell the story of the thousands of motorcyclists who ride annually for freedom, paying tribute to the Vietnam War veterans still categorized as POW or MIA as well as all those who serve in the U.S. Armed Forces. Ages 7-10.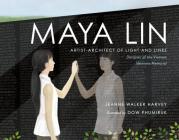 $18.99
ISBN: 9781250112491
Availability: In Stock—Click for Locations
Published: Henry Holt and Co. (BYR) - May 2nd, 2017
---
If you find numbers confusing—or, at times, even boring—you have something in common with William Playfair. When everyone else saw numbers, Playfair dreamed in Lines, Bars and Circles (Kids Can, $17.95). Helaine Becker takes readers through the life and times of this colorful thinker, now known as the inventor of the graph. Playfair was indisputably a pioneer, but he was, tragically, perhaps a little too forward-thinking for his time. Featuring fanciful illustrations by Marie-Eve Tremblay and bite-sized historical vignettes, this book is more than just a lesson in mathematics: like a graph, it tells a story. Ages 7-10.

$17.95
ISBN: 9781771385701
Availability: Not On Our Shelves—Ships in 1-5 Days
Published: Kids Can Press - April 4th, 2017
---
Pages