Louis Armstrong was a giant of 20th-century music: the pioneering innovator for both jazz instrumentalists and vocalists. A star of radio, film, television, and the concert stage, he was also jazz's global ambassador. In his narrative biography, Pops: A Life of Louis Armstrong (Houghton Mifflin Harcourt, $30), Terry Teachout (drama and jazz critic for the Wall Street Journal) draws upon the 650 reels of Armstrong's personal "audioverité," reel-to-reel tapes for the first time to reveal the real man behind the affable public persona. Teachout gives us Armstrong's "epic journey from squalor to immortality," and shows us his joyous, radically transforming art in all its complexity.

$18.99
ISBN: 9780547386379
Availability: Not On Our Shelves—Ships in 1-5 Days
Published: Mariner Books - October 7th, 2010
---
Both Thelonious Monk's compositions and his piano playing—with spare, "open" chords and skittish melodies—were one-of-a-kind. Though celebrated as a jazz giant, he was often portrayed as a reclusive, crazy eccentric. But in his epic, Thelonious Monk: The Life and Times of an American Original (Free Press, $30), Robin D.G. Kelley gives the genius his due—while sweeping away the myths and stereotypes—to reveal Monk as a working musician and family man. Kelley's many interviews with musicians, club-owners, family, and friends give us an oral history woven into a well-researched analysis of Monk's music and his times.

$22.00
ISBN: 9781439190463
Availability: Not On Our Shelves—Ships in 1-5 Days
Published: Free Press - November 2nd, 2010
---
Madame de Staël was said to possess such personal charms that she could lure any suitor into her den. One of her earliest lovers after her unhappy, arranged marriage to a Swedish diplomat was Tallyrand. From then on, Mme. de Staël amassed a large circle of lovers, many introduced to her by previous lovers, and two of whom fathered her children. There were also many swains in her personal entourage at the same time. But despite her romantic conquests, Mme. de Staël's real interests were in French literary and political life. Her salon, the most brilliant in Paris, was attended by the finest minds, while in darker venues, her ceaseless political machinations earned the anger and enmity of Napoleon, who eventually exiled her. In exile, she continued to hold her salons and to write both fiction and essays. Her life was so full, her character so forceful, and her literary goals so passionate, that it is easy to understand why Francine du Plessix Gray was attracted to her. I think the author must have possessed many of the same female charms as Madame de Staël, because she was courted by George Plimpton; and the Paris Review's first managing editor was said to be rendered paralyzed with love for her.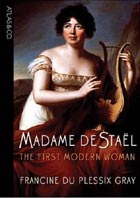 $24.00
ISBN: 9781934633175
Availability: Special Order—Subject to Availability
Published: Atlas & Co. - October 1st, 2008
---
Pages