Budding bookworkms in search of the perfect bedtime story will find it in celebrated Argentine cartoonist Liniers's latest graphic novel. Planet the toy fawn has a mission: at night, he comes alive and tries to reach the giant cookie in the sky that sometimes has a bite taken out of it. This refreshing take on the secret lives of toys will have parents and children alike saying Good Night, Planet (Toon, $12.95) or Buenas Noches, Planeta (Toon, $6.99 PB/$12.95 HB). Ages 6-9.

$12.95

ISBN: 9781943145201
Availability: Not On Our Shelves—Ships in 1-5 Days
Published: Toon Books - September 12th, 2017
---

$6.99

ISBN: 9781943145195
Availability: Not On Our Shelves—Ships in 1-5 Days
Published: Toon Books - September 12th, 2017
---
Something's Fishy (Toon, $12.95) in Kevin McCloskey's newest book! With his entertaining illustrations and goofball humor, the author of We Dig Worms and The Real Poop on Pigeons provides a whole school of fish facts in the increasingly popular graphic novel format. Children will discover how to determine the age of a fish by its scales—assuming, of course, that the fish has scales in the first place. McCloskey also devotes ample time to the noble goldfish, describing what easy pets they make, how they get their color, and how big they can grow in an aquarium. As always with Toon Books, adults new to the genre can refer to the back pages for practical tips on reading comics with kids. Ages 5-8.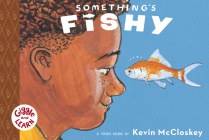 $12.95

ISBN: 9781943145157
Availability: Special Order—Subject to Availability
Published: Toon Books - April 4th, 2017
---
"Goody gumdrops!" It's finally spring, and Pig is out and about enjoying the glorious weather. Then, in the distance, Pig sees something in the clear blue sky getting closer and closer…. and she realizes it is Goose flying towards her! Pig and Goose become fast friends and spend a marvelous day together, having a picnic lunch and a nighttime party complete with music and friends. In Pig & Goose and the First Day of Spring (Charlesbridge, $12.99), author/illustrator Rebecca Bond's charming story and watercolor illustrations bring to life the joy of spring and the promise of a burgeoning friendship. Ages 6-9.

$12.99

ISBN: 9781580895941
Availability: Special Order—Subject to Availability
Published: Charlesbridge - March 7th, 2017
---
Pages