How do penguins know when it's springtime? "When everything melts," of course! And do penguins prefer baths to showers? With A Goofy Guide to Penguins (Toon, $12.95), readers will giggle over silly "truths" and discover fascinating details in each image. With two-panel pages, author Jean-Luc Coudray and illustrator Phillippe Coudray create the perfect balance of absurdity and delight. This charming book is perfect for any jokester in your life. Ages 4-7.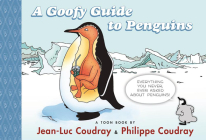 $12.95

ISBN: 9781935179962
Availability: Special Order—Subject to Availability
Published: Toon Books - May 10th, 2016
---
Kevin McCloskey's latest graphic novel for early readers begins with two strangers sitting on a bench. When a pair of pigeons gets a little too close, the man exclaims that he hates these "rats with wings." Suddenly, a group of people dressed in mascot-like pigeon suits descends upon him to give him The Real Poop on Pigeons! (Toon, $12.95). These oft-maligned birds are actually rather fascinating and helpful creatures: they delivered airmail before planes existed; they belong to the same family as the dodo bird; and they even make milk in their crops in order to feed their young. This lighthearted ode will have you thinking about our avian neighbors in a whole new way. Ages 5-7.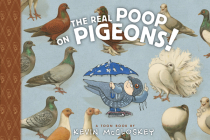 $12.95

ISBN: 9781935179931
Availability: Not On Our Shelves—Ships in 1-5 Days
Published: Toon Books - April 19th, 2016
---
Inspired by the Japanese art of kamishibai, or "paper theater," James Sturm's wordless story is meant to be the inspiration for a performance. A boy and girl are cruelly teasing animals in a forest when a frightened bird takes flight. The children give chase up a mountainside and find themselves confronted with a mystical man who has feathers emerging from his clothing. With a flash like lightning, the children are transformed—into monkeys. Eventually captured by humans and put into a carnival show, they receive some of the cruel treatment they had earlier perpetrated themselves. In keeping with kamishibai tradition, Birdsong (Toon, $12.95) contains a lesson for young readers to discover as they turn the pages. Ages 5-8.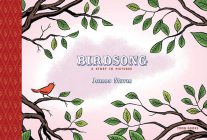 $12.95

ISBN: 9781935179948
Availability: Not On Our Shelves—Ships in 1-5 Days
Published: Toon Books - April 5th, 2016
---
Pages