Sarah Bakewell borrows Montaigne's own personable, anecdotal approach for her sparkling treatise on the master essayist's life and work. HOW TO LIVE (Other Press, $25) is the matter under investigation and Bakewell, author of two previous biographies and former curator of early printed books at the Wellcome Library, examines it from 20 different perspectives (or 21, given the nearly 60 illustrations), each one integral to Montaigne's thought and experience. Starting with how to survive the death of a loved one, Montaigne determined that "death is only a few bad moments at the end of life," and set about the greater challenge of living. Combining elements from the Stoics, Epicureans, and Skeptics, Montaigne developed a free-ranging philosophy based not on abstractions and ideals but on daily life and fallible humanity. Always curious, open to any and all perspectives, affable, and eager for conversation, Montaigne in his essays conveys to the reader "the feeling of meeting a real person across the centuries"; Bakewell, in this vivid profile, does the same.

$25.00
ISBN: 9781590514252
Availability: Special Order—Subject to Availability
Published: Other Press (NY) - October 19th, 2010
---

$19.95
ISBN: 9781590514832
Availability: In Stock—Click for Locations
Published: Other Press - September 20th, 2011
---
It isn't often that you find literature offering an extended treatment of work. Which is odd, because work is where most of us spend the (at times disheartening) preponderance of our energy and time each day, each year. Perhaps books neglect labor because we turn to literature for the very purpose of "'forgetting" our daily toil? Be alienated no longer! With The Pleasures And Sorrows Of Work (Vintage, $15.95), Alain de Botton (The Architecture of Happiness, How Proust Can Change Your Life) reports on ten distinct occupations and industries. It is a "hymn to the modern workplace," evoked in rich, wry detail with anthropological care, all the while seeking to answer the question, "when does a job feel meaningful?"

$16.95
ISBN: 9780307277251
Availability: Special Order—Subject to Availability
Published: Vintage - June 1st, 2010
---
Slow: Life In A Tuscan Town (Welcome Books, $50), by Douglas Gayeton, is a work of art. After moving to the village of Pistoia, Gayeton began to document the local residents and their intimate, ancient traditions of growing, preparing, and enjoying food. The stunning sepia-toned photos alone are worth the price tag, but Gayeton's commentary makes this book exceptional. His whimsical, elegant observations—ingeniously incorporated into or on each photograph—elevate Slow into something far more than a coffee table decoration. The title is apt: you'll want to slow down and savor each image.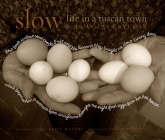 $50.00
ISBN: 9781599620725
Availability: Special Order—Subject to Availability
Published: Welcome Books - September 29th, 2009
---
Pages