It's bedtime in the bustling city. Teeth have been brushed and jammies are on, but a small boy and his mother delay slipping under sheets and blankets to venture into the cold and catch a glimpse of an old friend. At first the City Moon (Schwartz & Wade, $17.99) hides its face, but then it suddenly peeks out from behind the urban scape and welcomes its onlookers with comforting familiarity. Rachael Cole describes the journey with coziness and warmth, while illustrator Blanca Gómez displays familiar scenes that city dwellers old and young will recognize and appreciate. Ages 4-7.

$17.99

ISBN: 9780553497076
Availability: Not On Our Shelves—Ships in 1-5 Days
Published: Random House Studio - September 19th, 2017
---
Join a boy in a red hoodie and his white dog on a walk as the sun begins to set. They stroll through their neighborhood as Windows (Candlewick, $15.99) light their way, each presenting a glimpse into other people's lives, each with a different story. In her picture-book debut, illustrator E.B. Goodale presents a familiar town in detailed, luminous watercolors that show everyday hustle and bustle in a new light. Julia Denos's lyrical text follows the child and dog as they explore their town and eventually return home, where "someone you love is waving at you." Ages 4-7.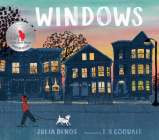 $16.99

ISBN: 9780763690359
Availability: In Stock—Click for Locations
Published: Candlewick - October 17th, 2017
---
After the Fall (Roaring Brook, $17.99) immortalized in an English nursery rhyme, Humpty Dumpty is put together again in Dan Santat's new tale—physically, at least. But there are "some parts that couldn't be healed with bandages and glue." With a new fear of heights, poor Humpty can't do some of his favorite things. When he does finally decide to climb his famous wall once again, he—nervously, slowly—rediscovers joy. Santat's illustrations, which weave cartoonish humor with sober realism, communicate the egg's emotions on the long, bumpy road to recovery. The book's touching surprise ending is much more hopeful than the original nursery rhyme's grim conclusion. Ages 4-7.

$17.99

ISBN: 9781626726826
Availability: In Stock—Click for Locations
Published: Roaring Brook Press - October 3rd, 2017
---
Pages