At 7 AM, the crocodile's alarm goes off. He slowly gets out of bed, brushes his teeth, chooses the perfect tie, eats his breakfast, and heads out the door. He's a Professional Crocodile (Chronicle, $17.99) and he's off to work with the other city dwellers, hurrying down sidewalks and cramming onto crowded trains. Giovanna Zoboli and Mariachiara Di Giorgio show humans and animals commuting in perfect (and perhaps oblivious) harmony in this wordless picture book that will leave onlookers hunting through the illustrations for hidden faces and familiar scenes that all lead to a chuckle-worthy ending. Ages 4-8.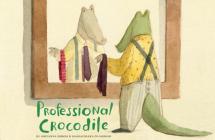 $17.99

ISBN: 9781452165066
Availability: Not On Our Shelves—Ships in 1-5 Days
Published: Chronicle Books - August 1st, 2017
---
When we meet Rapunzel (Peachtree, $16.95) in author/illustrator Bethan Woollvin's retelling, she's already imprisoned in her tower. Her long, yellow tresses are the only way up and down just as in the original tale, but here, her witch captor is the only one who uses this curious ladder. There's no prince in sight, but no matter; he's clearly not needed. Strong black lines and snappy text demonstrate that this Rapunzel is clever, resourceful, and creative. She figures out how to escape the tower and get rid of her jailor. Simple, bold illustrations accented by the bright yellow of Rapunzel's long, swirling hair depict the shrewd girl and an unsympathetic witch. Children and adults familiar with the more traditional tale will appreciate this Rapunzel's take-charge approach. Ages 4-8.

$16.95

ISBN: 9781682630037
Availability: In Stock—Click for Locations
Published: Peachtree Publishing Company - October 1st, 2017
---
When a young girl discovers a book "free to a good home" outside the library, she does not suspect that it carries the true magic of The Five Forms (Farrar Straus + Giroux, $17.99) of the martial arts. Once home, she ignores all warnings not to "attempt these forms without an experienced teacher" and plows right on through the book. Author/illustrator Barbara McClintock returns with a tale of magic filled with delightful details on every page. Kids will enjoy learning each move along the way and may discover even more than expected! Ages 4-8.

$17.99

ISBN: 9781626722163
Availability: Not On Our Shelves—Ships in 1-5 Days
Published: Farrar, Straus and Giroux (BYR) - October 3rd, 2017
---
Pages