From the opening page of The Little Red Cat Who Ran Away and Learned His ABC's (the Hard Way) (Little, Brown, $17.99), it's clear that readers are in for a wild adventure. As the titular cat runs out the door, he encounters an alligator, then a bear, then a chicken: with each successive creature, the daring feline moves one letter further along in the alphabet. This race through the animal kingdom invites grownups and alphabet neophytes alike to guess what author/illustrator Patrick McDonnell will come up with for the next letter, and find themselves surprised at every turn. Ages 4-9.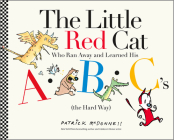 $17.99

ISBN: 9780316502467
Availability: Not On Our Shelves—Ships in 1-5 Days
Published: Little, Brown Books for Young Readers - September 5th, 2017
---
Young Marco the fox is forever asking curious and unanswerable questions to no avail. So when The Antlered Ship (Simon & Schuster, $17.99) arrives, captained by deer who are recruiting more crew, Marco jumps at this chance for adventure. Each sailor, whether deer or pigeon, is seeking something; Marco just wants to meet "foxes with answers." Daksha Slater describes the animals' adventures and friendships in warm and poignant tones. The Fan Brothers use a combination of soft graphite for background, atmospheric mists, waves, and rocks; detailed ballpoint pen for the naturalistic animals, ship, and landscapes; and light, subtle colors to perfectly evoke this philosophical search. Ages 5-8.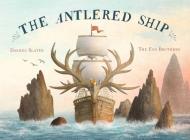 $17.99

ISBN: 9781481451604
Availability: Not On Our Shelves—Ships in 1-5 Days
Published: Beach Lane Books - September 12th, 2017
---
Kate DiCamillo has demonstrated her masterful ability to interweave themes of loss and hope in her many award-winning novels, including Because of Winn-Dixie and Flora and Ulysses. Now, in the nearly wordless La La La (Candelwick, $17.99), DiCamillo uses only the sparsest of language to depict a child's sense of loneliness. Follow a little girl's emotional journey as she puts a simple song out into the universe and waits to hear back— from anyone or anything. She thinks she finds her perfect partner in another solitary creature, but must wait to see if her message is heard and reciprocated in kind. Jamie Kim's gorgeous illustrations, featuring richly saturated oranges, yellows, greens, and purples, carry the narrative weight of this story and lend poignancy to DiCamillo's few and well-chosen words. Ages 5-8.

$17.99

ISBN: 9780763658335
Availability: In Stock—Click for Locations
Published: Candlewick - October 3rd, 2017
---
Pages