Praying mantises may be known for their bulging eyes, triangular heads, and long, leaf-like bodies, but does anyone really know what they do all day? Luckily, a young bug named P. Mantis has shared his personal summer diary to walk us through his routine. Paul Meisel's acrylic ink illustrations vividly display all of the different environments that a praying mantis must navigate over the course of a summer. My Awesome Summer by P. Mantis (Holiday House, $16.95) is a witty introduction to the praying mantis lifecycle, offering odd and interesting facts about its feeding habits, shedding patterns, and more! Ages 4-8.

$16.99

ISBN: 9780823436712
Availability: Not On Our Shelves—Ships in 1-5 Days
Published: Holiday House - February 28th, 2017
---
Mama penguin is on a mission—a mission to get baby penguin some grub. Papa penguin is in charge, while all the feathered moms of the waddle (read: group) "climb down cliffs" and "hop across sand" to the dangerous sea to gather some food. Fighting many enemies along the way, will mama, papa, and baby penguin succeed in reuniting and filling their tummies? Nic Bishop brings adorable rockhopper penguins to life with his lively descriptions and close-up photographs of the familial bonds that play such an integral part in every Penguin Day (Scholastic, $16.99). Ages 7-10.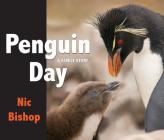 $16.99

ISBN: 9780545206365
Availability: Special Order—Subject to Availability
Published: Scholastic Press - February 28th, 2017
---
In his latest work, author and illustrator Jason Chin not only demonstrates his meticulous research on the Grand Canyon (Roaring Brook, $19.99), but also his inventive use of the page. Chin augments the simple narrative of a father and daughter's hike through the canyon by illustrating the biodiversity and complexity of the majestic park through visual layers, with landscape paintings, diagrams, and topographical maps overlapping each other. Camouflaged die cuts invite readers to peek into the geological history of the park's varied terrain, and even the page margins form a directory of plants and animals found throughout the Canyon. While unearthing fossil footprints, ancient rock deposits, and ecological communities, Chin's characters are transported back in time to observe the breathtaking evolution of "the grandest canyon on Earth." Ages 8-12.

$19.99

ISBN: 9781596439504
Availability: In Stock—Click for Locations
Published: Roaring Brook Press - February 21st, 2017
---
Pages