Author and photographer Shelley Rotner takes readers on a scientific voyage of discovery of our fellow creatures and ourselves— based solely on eyes! In Whose Eye Am I? (Holiday House, $16.95), readers are challenged to identify animals using only a close-up photo of their eyes. Once an animal's identity is revealed— be it a mammal, bird, fish, insect, or something else entirely— Rotner provides a plethora of fun facts about each creature's visual abilities that will intrigue and delight budding zoologists. A description of how humans see, and an accompanying diagram of a human eye, ensure that we aren't left out of this ophthalmic adventure. Ages 5-9.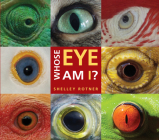 $16.95

ISBN: 9780823435586
Availability: Special Order—Subject to Availability
Published: Holiday House - January 30th, 2016
---
An animal that waddles like a reptile, has a beaver-like tail, and boasts venomous spurs on its hind legs may sound like an imaginary mash-up of a creature, but it's actually a Platypus (Candlewick, $16.99)! This fascinating nocturnal animal is one of only two egg-laying mammals in the world. Tag along with one particular platypus as he emerges from his burrow, hunts incessantly for food, relaxes briefly in the water, hides from predators, and finally settles down for a well-earned rest. Sue Whiting's night-in-the-life narrative, presented alongside all the outlandish facts that make platypuses such unusual creatures, perfectly complement Mark Jackson's mixed-media illustrations, which emphasize the platypus's ability to blend in with his surroundings. Ages 5-9.

$16.99

ISBN: 9780763680985
Availability: Special Order—Subject to Availability
Published: Candlewick - February 23rd, 2016
---
Did you know that baby swans sometimes catch a ride on the backs of their moms or dads? That ruby ladybugs can eat more than 50 aphids in just one day? Ever played a game of conkers? When's the best time to pick a pear or plum? Spend a year with Nature's Day (Wide Eyed, $24.99), revisiting eight locations through all four seasons, and discover the world through the wildlife that surrounds you. Author Kay Maguire and illustrator Danielle Kroll have created a storybook, nature journal, and wildlife encyclopedia all wrapped into one, providing something for everyone and enticing readers to spend just a little more time outdoors. Ages 5-10.

$24.99

ISBN: 9781847807076
Availability: Special Order—Subject to Availability
Published: Wide Eyed Editions - March 1st, 2016
---
Pages