Look to the sky: birdwatching's back in season! Learn about the avian inhabitants of North America with two delightful new books: My Book of Birds (Groundwood, $24.95) by Geraldo Valério and Bird Brainiacs: Activity Journal and Log Book for Young Readers (Cornell Lab Publishing Group, $14.95) by Stacy Torino. Valério pairs beautiful and bold paper cutout illustrations with quirky facts to make each species memorable and easy to identify. Torino's journal is highly interactive, encouraging readers to write and think about birds with a variety of fun activities. Using different methods, both books will encourage young bird lovers to get outside and search for nature's feathered friends. Ages 5-13 (ages vary by book).

$24.95

ISBN: 9781554988006
Availability: Backordered
Published: Groundwood Books - April 12th, 2016
---

$14.95

ISBN: 9781943645053
Availability: Special Order—Subject to Availability
Published: Cornell Lab Publishing Group - May 10th, 2016
---
How many times have you heard that pink is for girls? Zoologist Jess Keating puts that claim to the test, declaring instead that Pink Is for Blobfish (Knopf, $16.99)— and many other "perfectly pink" animals that she introduces to young scientists in this fact- and fun-filled installment of the World of Weird Animals series. Once you learn about the pinktoe tarantula's ability to rub its abdomen hair into the eyes of its predators, you'll never think of pink the same way again. From the titular blobfish to the Amazon river dolphin and orchid mantis, there's something to please every animal lover in this offbeat compendium. David DeGrand's cartoon-like illustrations add character to the full-page photographs of each wonderfully pigmented creature. Ages 7-10.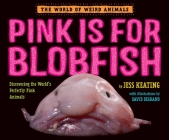 $16.99

ISBN: 9780553512274
Availability: Special Order—Subject to Availability
Published: Knopf Books for Young Readers - February 2nd, 2016
---
Imagine spending your days aboard a boat specially modified for studying great white sharks. You can stand or even lie on your belly just feet above a shark to record a video of it or attach a telemetry tag to its dorsal fin. Imagine using the data you collect to learn about individuals' characteristics and to track larger migration patterns and trends. This is the life of Dr. Greg Skomal, The Great White Shark Scientist (Houghton Mifflin Harcourt, $18.99). Join award-winning science writer Sy Montgomery and photographer Keith Ellenbogen as they ride the Aleutian Dream with Greg and his team just off the coast of Cape Cod, then enter a shark cage to descend into the waters off Guadalupe Island. The most recent title in the remarkable and highly regarded series Scientists in the Field is a fantastic way to celebrate Shark Week and learn more about these mysterious animals, whose populations are dwindling worldwide. Ages 11-15.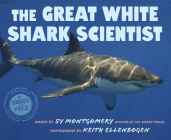 $18.99

ISBN: 9780544352988
Availability: In Stock—Click for Locations
Published: Clarion Books - June 7th, 2016
---
Pages