Bob Mankoff, cartoon and humor editor for Esquire, former New Yorker cartoon editor, and author of the memoir How About Never—Is Never Good For You?, introduces this collection of his favorite Jewish cartoons, Have I Got a Cartoon for You! (MomentBooks, $19.95), by quipping that the People of the Book are also "the People of the Joke." Exploring how Jewish humorists have drawn on traditions such us Talmudic disputation for material, Mankoff surveys the long tradition of Jewish humor and the cartoon's place in it and refl ects on how his own Jewish heritage—which included early experiences of Borscht Belt comedians like Jerry Lewis and Buddy Hackett—shaped his career as a cartoonist.

$19.95

ISBN: 9781942134596
Availability: In Stock—Click for Locations
Published: Mandel Vilar Press - September 17th, 2019
---
"SLUGGO IS LIT!" With these words Olivia Jaimes's Nancy: A Comic Collection (Andrews McMeel, $14.99) fully transcended its origins as a 1930s comic strip and became something even more horrifying: a meme. Ernie Bushmiller's original run is beloved by comics fans for its creative gags and sense of economy. The mysterious Jaimes (a pseudonym) doesn't so much reinvent the wheel with her take on the character as wrest the original from the clutches of Bushmiller's mediocre successors. Once more, Nancy is headstrong, greedy, and self-obsessed—and she's all the better for it. But now she and her friend Sluggo have smartphones, Fritzi is devoted to the Marie Kondo ethos, and a new but already long-suffering teacher at school has started a robotics club. There are jokes about the difference between liking somebody's post and commenting and sharing on somebody's post on social media; there are jokes about badly drawn strips being the result of Snapchat filters; there are jokes that don't so much smash open the fourth wall as remap it. The result is a strong collection of distinctly modern comic strips that remain wholly in keeping with the anarchic original. The volume also includes essays and interviews for die-hard Nancyphiles.

$14.99

ISBN: 9781524853259
Availability: In Stock—Click for Locations
Published: Andrews McMeel Publishing - October 1st, 2019
---
You start with one school day in 1970s Omaha, and a universe of quotidian tragedies expands from there. Interlocking narratives bring preteen social rejects, high school bullies, and teachers of varying levels of honor from youth to maturity and beyond. And all in the unmistakable style of Chris Ware: graphic panels to be read with the same care as the greatest traditional prose, exploding the depicted mundanities into cubist journeys toward the past, the future, and the imagination. (See the throwback Martian sci-fi narrative in the middle of the book for just one example.) Few comics artists command Ware's widespread respect, from audiences with only glancing interest in the form to those most steeped in its history as both "low" and "high" art. Rusty Brown (Pantheon, $35) is the first volume of a magnum opus, compiling pieces Ware has been slowly releasing since first beginning the project in 2001, immediately following publication of his breakthrough Jimmy Corrigan. That protracted timespan sits profoundly on each page, where every frame, whether immense or miniature, feels like a home — maybe not the home his characters would always want, but the one they've come to accept for themselves all the same.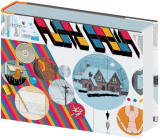 $35.00

ISBN: 9780375424328
Availability: In Stock—Click for Locations
Published: Pantheon - September 24th, 2019
---
Pages