K.K. Ottesen, whose work has appeared in The Washington Post for more than a decade, is a writer and photographer who pairs images with interviews to break down barriers and celebrate common ground. Her first book, Great Americans, explored what it means to be American through a series of portraits of people who bear the names of famous fi gures. Her new collection, Activist (Chronicle, $35), features forty change-makers of diverse ages, backgrounds, and perspectives—Bernie Sanders, Angela Davis, Bill McKibben, Alicia Garza—discussing what motivates people to take up a cause and what sustains them during the struggle. Spotlighting issues including voting and reproductive rights, the environment, and economic justice, Ottesen shows, while her subjects tell, what it means to live a life of passion and purpose.

$35.00
ISBN: 9781452182773
Availability: In Stock—Click for Locations
Published: Chronicle Books - October 8th, 2019
---
An internationally known photographer specializing in music, Antonia Tricarico has more than two decades of experience, including collaborating with Dischord Records, Kill Rock Stars, and Youth Action Research Group. Focusing largely on the women of D.C's vibrant music underground from the 1990s to today, Frame of Mind (Akashic, $32.95) features more than 150 photos of classic homegrown performers such as Fugazi, Branch Manager, and the Make-Up along with bands they became or inspired—Dead Meadow, Motorcycle Wars, the Evens, and Weird War—and visiting musicians like Dutch group the Ex and Italy's Uzeda. The stunning images are complemented by essays by some of the top female artists of the era, including Joan Jett, Amy Farina, Tara Jane O'Neil, and more.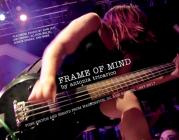 $32.95
ISBN: 9781617757198
Availability: In Stock—Click for Locations
Published: Akashic Books - June 4th, 2019
---
In the mid-1980s, a group of women artists and activists donned Gorilla masks and marched in front of museums and galleries in New York City, protesting the vastly unequal representation of men and women artists in these institutions. They called themselves the Guerrilla Girls and with their confrontational activism, they jumpstarted a process of self-examination and re-visioning of history in the art world, a rediscovery of passed-over and sidelined women artists throughout history, as well as shining the spotlight on the importance and relevance of the work of contemporary women artists. Thirty-five years later, we have still not achieved equal representation or income parity in the visual arts, but much progress has been made, and Great Women Artists (Phaidon, $59.95) is a celebration of this exciting paradigm shift. Included in the book are images of the work of 400 women artists from the past 500 years, along with a paragraph on the history and significance of each one (there is a page on the Guerrilla Girls). These images show the pioneering diversity of art made by women, and prove decisively that women make art which transcends the supposed limitation of femaleness, and that—as the strikethrough in the title suggests— Great Women Artists are simply Great Artists.

$59.95
ISBN: 9780714878775
Availability: In Stock—Click for Locations
Published: Phaidon Press - October 2nd, 2019
---
Pages