Sometimes, kids just do not want to take a bath. Around the World in a Bathtub (Charlesbridge, $16.99) explores this universal truth in a humorous and educational journey through different cultures around the globe. Author Wade Bradford uses language and diversity to show the hilarity of resistant children from Turkey to the Yup'ik tribe in Alaska. Illustrator Micha Archer contrasts rich purples and blues with vivid oranges and yellows to bring these international locations to life. This inclusive picture book is a delight for both chagrined parents and their pesky, playful offspring. Ages 5-8. Kasie Griffitts.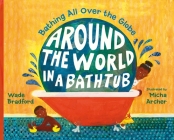 $16.99

ISBN: 9781580895446
Availability: Special Order—Subject to Availability
Published: Charlesbridge - June 20th, 2017
---
"Goody gumdrops!" It's finally spring, and Pig is out and about enjoying the glorious weather. Then, in the distance, Pig sees something in the clear blue sky getting closer and closer…. and she realizes it is Goose flying towards her! Pig and Goose become fast friends and spend a marvelous day together, having a picnic lunch and a nighttime party complete with music and friends. In Pig & Goose and the First Day of Spring (Charlesbridge, $12.99), author/illustrator Rebecca Bond's charming story and watercolor illustrations bring to life the joy of spring and the promise of a burgeoning friendship. Ages 6-9.

$12.99

ISBN: 9781580895941
Availability: Special Order—Subject to Availability
Published: Charlesbridge - March 7th, 2017
---
In the new early-reader series by Dori Hillestad Butler, pup King and his faithful human Kayla solve everyday mysteries. King desperately wants some treats in King & Kayla and the Case of the Missing Dog Treats (Peachtree, $14.95), but they aren't for him! He begs and begs, but they are for Kayla's friend Jillian and her new puppy Thor. However, when the peanut butter goodies go missing, it's up to King and Kayla to crack the case. In King & Kayla and the Case of the Secret Code (Peachtree, $14.95), Kayla gets an indecipherable letter on her porch. King's nose is immediately on the hunt, and he sniffs out some clues with Kayla and her friend Mason. With illustrations by Nancy Meyers and fun clue-cracking devices attached, these early readers are the perfect mixture of humor and adventure. Ages 6-9.

$14.95

ISBN: 9781561458776
Availability: Not On Our Shelves—Ships in 1-5 Days
Published: Peachtree Publishing Company - March 1st, 2017
---

$14.95

ISBN: 9781561458783
Availability: In Stock—Click for Locations
Published: Peachtree Publishing Company - March 1st, 2017
---
Pages