Around his grandpa, Cool Papa Byrd, "Clayton didn't feel like a kid. He felt like a person." Clayton idealizes his grandfather and desperately longs to be a great bluesman just like Papa Byrd. Clayton's mom, however, doesn't much like her father or his music. When Papa Byrd dies unexpectedly, Clayton is left struggling with his grief while his mother forbids him from playing the blues. He refuses to accept that decree, so Clayton Byrd Goes Underground (Amistad, $16.99) with his harmonica to form his own band. From award-winning author Rita Williams-Garcia comes a new journey of loss, family, and the rhythm of the blues. Coupled with illustrations by Frank Morrison, Clayton's story will captivate readers. Ages 9-12.

$16.99

ISBN: 9780062215918
Availability: Not On Our Shelves—Ships in 1-5 Days
Published: Quill Tree Books - May 9th, 2017
---
Mama penguin is on a mission—a mission to get baby penguin some grub. Papa penguin is in charge, while all the feathered moms of the waddle (read: group) "climb down cliffs" and "hop across sand" to the dangerous sea to gather some food. Fighting many enemies along the way, will mama, papa, and baby penguin succeed in reuniting and filling their tummies? Nic Bishop brings adorable rockhopper penguins to life with his lively descriptions and close-up photographs of the familial bonds that play such an integral part in every Penguin Day (Scholastic, $16.99). Ages 7-10.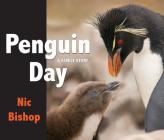 $16.99

ISBN: 9780545206365
Availability: Special Order—Subject to Availability
Published: Scholastic Press - February 28th, 2017
---
What do you do when you're a cat who cannot "meow," or a dog who cannot "bowwow," or even a mouse who cannot "squeak"? Visit the magical "old lady in the tumbledown house," of course! Perhaps, suggests a wise owl to his woefully mixed-up friends, she has a magical spell to alleviate their problems. But alas! When cat, dog, and mouse visit this mysterious woman with crazy blue hair and a silly book of spells, she doesn't quite get the correct combination of words and—WHOOPS! (Templar, $16.99)— everything goes amiss. With streamlined mixed-media illustrations and bold backgrounds by illustrator Russell Ayto, this laugh-out-loud riot of a picture book will have children and adults giggling. Author Suzi Moore has created a wonderful, rhyming, superbly silly tale that is perfect for any family. Ages 4-6.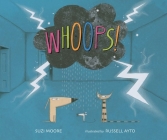 $16.99

ISBN: 9780763681807
Availability: Special Order—Subject to Availability
Published: Templar - February 9th, 2016
---
Pages