Jessica Courtney-Tickle's gorgeous visual interpretation of Antonio Vivaldi's Four Seasons begins as a sleeping girl named Isabelle awakens. She collects a tiny apple tree and her puppy, Pickle, and embarks upon an accelerated journey through the seasons that takes only a single day. Beginning with spring and an unexpected shower, Isabelle and Pickle then travel though summer, autumn, and winter in turn. "Press Here" music notes on every page play brief selections from Vivaldi's Four Seasons. The Story Orchestra: Four Seasons in One Day (Frances Lincoln, $22.99) is an ingenious and accessible way to introduce young children to some of the most enduring music ever composed. Ages 5-8.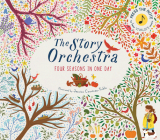 $24.99

ISBN: 9781847808776
Availability: In Stock—Click for Locations
Published: Frances Lincoln Children's Books - October 4th, 2016
---
Beloved award-winning author and illustrator Steve Jenkins is back with Animals by the Numbers: A Book of Infographics (Houghton Mifflin Harcourt, $17.99)! Enticing and accessible information is awaiting readers, this time with a variety of animal statistics. Including charts, numbers, and graphs galore, Jenkins has yet again created a factual and fascinating book for a wide audience. This informational picture book is another must for classrooms and non-fiction lovers. Ages 7-10.

$17.99

ISBN: 9780544630925
Availability: Not On Our Shelves—Ships in 1-5 Days
Published: Clarion Books - November 1st, 2016
---
"Put away your preconceptions, turn the page, and step back" into the Day of the Dinosaurs: Step into a spectacular prehistoric world (Wide Eyed, $22.99)! Dr. Steve Brusatte has compiled a compendium of fascinating dinosaur information. Starting with the Triassic period and ending with the Cretaceous period, when the Tyrannosaurus Rex reigned supreme, readers will learn about the herbivores, predators, and sea creatures of each era; a helpful scale on each page shows how big each dinosaur was compared to a human being. Illustrator Daniel Chester has coupled fact-filled text with bold illustrations and eye-popping colors that will immediately draw young people into this fascinating volume. Ages 8-11.

$22.99

ISBN: 9781847808455
Availability: Special Order—Subject to Availability
Published: Wide Eyed Editions - September 1st, 2016
---
Pages