Penguin isn't feeling particularly happy. He's in a bit of a foul mood on his walk home, and "he [doesn't] know why and he [doesn't] care." Upon his arrival, he removes his rain boots, his socks, and even his Grumpy Pants (Albert Whitman, $16.99), hoping to cast off his surliness as well. But alas, it is to no avail, and he is still cranky. However, Penguin knows that sometimes you just have to hope that tomorrow will be a better day and find comfort in the little things around you. Debut author/illustrator Claire Messer finds the perfect artistic combination of somber blues and grays with bright additions to perfectly complement Penguin's mood. Ages 3-6.

$16.99

ISBN: 9780807530757
Availability: Not On Our Shelves—Ships in 1-5 Days
Published: Albert Whitman & Company - May 1st, 2016
---
How do penguins know when it's springtime? "When everything melts," of course! And do penguins prefer baths to showers? With A Goofy Guide to Penguins (Toon, $12.95), readers will giggle over silly "truths" and discover fascinating details in each image. With two-panel pages, author Jean-Luc Coudray and illustrator Phillippe Coudray create the perfect balance of absurdity and delight. This charming book is perfect for any jokester in your life. Ages 4-7.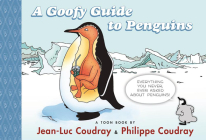 $12.95

ISBN: 9781935179962
Availability: Special Order—Subject to Availability
Published: Toon Books - May 10th, 2016
---
Raymie Clarke just wants her father to come back home. Luckily, she has the perfect plan to accomplish her goal: win the Little Miss Central Florida Tire pageant and get her picture in the paper. First, however, she must learn how to twirl a baton and do some "good deeds" to list on the application. Desperately trying to make sense of a confusing world, Raymie seeks comfort and answers in any way that she can. Alongside her outlandish companions Louisiana and Beverly, Raymie learns some hard truths and discovers the power of friendship. Beloved author Kate DiCamillo creates yet another memorable story with characters full of heart in Raymie Nightingale (Candlewick, $16.99). Ages 9-12.

$16.99

ISBN: 9780763681173
Availability: In Stock—Click for Locations
Published: Candlewick - April 12th, 2016
---
Pages