An internationally known photographer specializing in music, Antonia Tricarico has more than two decades of experience, including collaborating with Dischord Records, Kill Rock Stars, and Youth Action Research Group. Focusing largely on the women of D.C's vibrant music underground from the 1990s to today, Frame of Mind (Akashic, $32.95) features more than 150 photos of classic homegrown performers such as Fugazi, Branch Manager, and the Make-Up along with bands they became or inspired—Dead Meadow, Motorcycle Wars, the Evens, and Weird War—and visiting musicians like Dutch group the Ex and Italy's Uzeda. The stunning images are complemented by essays by some of the top female artists of the era, including Joan Jett, Amy Farina, Tara Jane O'Neil, and more.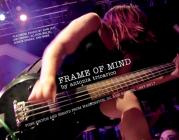 $32.95

ISBN: 9781617757198
Availability: Not On Our Shelves—Ships in 1-5 Days
Published: Akashic Books - June 4th, 2019
---
In what is definitely the biggest music book of the year, Sir Elton John follows the release of his biopic Rocketman with Me (Holt, $30), his first and only official autobiography. Elton John does not need an introduction, but this book is a cathartic, no-holds-barred memoir. There are dark years of addiction and recovery, losses of friends, and a battle with cancer. The memoir was written with the help of British music critic Alexis Petridis, but John's voice comes through clearly in the final version. He is a candid and warm narrator of his own struggles and actions, good and bad, and his passion for life, his friends, and his music shines throughout the volume. Ultimately, Me is about hardearned wisdom and life changes, and while many of us might not carry on such a star-studded dramatic existence, we can definitely appreciate recognition of mistakes and coming to face the darkest parts of our lives. This is a wonderful account of an incredible life.

$30.00

ISBN: 9781250147608
Availability: Not On Our Shelves—Ships in 1-5 Days
Published: Henry Holt and Co. - October 15th, 2019
---
High School (MCD, $27), perhaps unsurprisingly, is like one of Tegan and Sara's songs in book form: intimate yet vivid, urgent and animated. Yet their memoir is not only about music, although it does culminate with the duo landing their first record deal, which would lead to nine full-length albums. The twins tell their stories of growing up in '90s Calgary in alternating chapters, narrating their teenage confl icts, coming out, fi nding allies, having unrequited crushes, and discovering music. The songwriters' candid prose style perfectly evokes that time in life when everything was too much, when every moment seemed like a crisis, but also when one desperately needed to know that they were not alone. High School is a queer coming-out-of-age story, a messy journey of adolescence, and a book I wish my teenage self had read.

$27.00

ISBN: 9780374169947
Availability: Not On Our Shelves—Ships in 1-5 Days
Published: MCD - September 24th, 2019
---