Consequence is one of the most brutally honest books I've ever read. Eric Fair takes us on a journey as he's hired by civilian contractors, then working first as a translator then an interrogator, most notably at Abu Ghraib and Camp Victory. He lays it all out on the line and shows us his ambitions, his nightmares, his family and friends and, particularly painfully, the things he experiences behind closed doors with other humans labeled "enemy". A rough book, but one that everyone should read.

$26.00
ISBN: 9781627795135
Availability: Special Order—Subject to Availability
Published: Henry Holt and Co. - April 5th, 2016
---

ISBN: 9781250118424
Availability: Hard to Find
Published: Picador - April 11th, 2017
---
The title is a little mocking, a little sad, and conveys the moral outrage felt by its author upon reviewing the New York Times' collection of war photos from Iraq and Afghanistan. Ostensibly they exist to merely complement the writing, but how dangerous to forget the power of the photograph! Shields has curated what is essentially a museum exhibit, each photo on a wall of white, organized by theme with accompanying quotes from writers, critics, media. By exalting these photographs this way he in fact exposes them as the political and aesthetic objects they are, puts them on trial for us to consider how they have shaped the way we think of war today.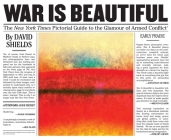 $39.95
ISBN: 9781576877593
Availability: Special Order—Subject to Availability
Published: powerHouse Books - November 10th, 2015
---
To End All Wars is an extraordinary addition to both the comics landscape and our wider collective understanding of WW1, one of the most significant conflicts in human history. Editors Jonathan Clode and John Stuart Clark have assembled more than 50 writers and artists from around the world to collaborate on 27 short stories detailing numerous aspects of the Great War. Going beyond the fighting in the trenches, readers see the struggles of a U-Boat captain, how civilians were affected by the first ever aerial bombings, and the British Army's appalling criminalization of soldiers suffering from PTSD. There is an astonishing variety of technique and talent in the artwork and storytelling, and moments of humor and humanity shine throughout, even amongst the inevitably tragic nature of the subject matter. Currently nominated for two Eisner Awards, this is a bold and unique anthology.

ISBN: 9781908030191
Availability: Hard to Find
Published: Soaring Penguin Press - March 1st, 2016
---
Pages