What sound does a bubble bath make? What do berries feel like? Author K.L. Going answers these questions and more in this noisy story for young listeners that explores the five senses and emphasizes the familiar sounds of everyday activities. With bare feet in the grass and a wagon ride over rough gravel, we hear Bumpety, Dunkety, Thumpety-Thump! (Beach Lane, $17.99) as plump blueberries are collected for an afternoon of baking and family time. Berries bump and the oven clunks. Chairs slunk and dishes dunk. Bath time glunks and bedtime lumps as a messy, rattling day is soon cleaned up. Illustrator Simone Shin depicts the heart-bursting happiness of childhood that may persuade us all to get a little silly. Ages 3-6.

$17.99
ISBN: 9781442434141
Availability: In Stock—Click for Locations
Published: Beach Lane Books - September 26th, 2017
---
It's bedtime in the bustling city. Teeth have been brushed and jammies are on, but a small boy and his mother delay slipping under sheets and blankets to venture into the cold and catch a glimpse of an old friend. At first the City Moon (Schwartz & Wade, $17.99) hides its face, but then it suddenly peeks out from behind the urban scape and welcomes its onlookers with comforting familiarity. Rachael Cole describes the journey with coziness and warmth, while illustrator Blanca Gómez displays familiar scenes that city dwellers old and young will recognize and appreciate. Ages 4-7.

$17.99
ISBN: 9780553497076
Availability: In Stock—Click for Locations
Published: Schwartz & Wade - September 19th, 2017
---
At 7 AM, the crocodile's alarm goes off. He slowly gets out of bed, brushes his teeth, chooses the perfect tie, eats his breakfast, and heads out the door. He's a Professional Crocodile (Chronicle, $17.99) and he's off to work with the other city dwellers, hurrying down sidewalks and cramming onto crowded trains. Giovanna Zoboli and Mariachiara Di Giorgio show humans and animals commuting in perfect (and perhaps oblivious) harmony in this wordless picture book that will leave onlookers hunting through the illustrations for hidden faces and familiar scenes that all lead to a chuckle-worthy ending. Ages 4-8.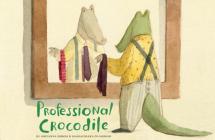 $17.99
ISBN: 9781452165066
Availability: In Stock—Click for Locations
Published: Chronicle Books - August 1st, 2017
---
Pages